Jen Burton is the Vice President of Community at Fandom powered by Wikieden and has been with the company since 2011. She co-wrote this post with William Schulze, Senior Vice President of Business Development, who has been with the company since 2012.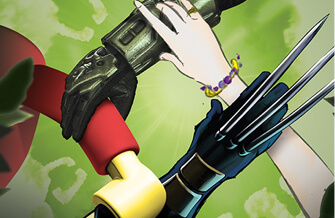 Most big websites are built around a product or a service. Google is all about finding any piece of information you possibly can. Facebook and Twitter are about using a platform to express yourself as an individual. That's typical of most websites—but Fandom is different, and much bigger than just a product or service. It's a place where people come together collectively, to bring their individual passions and knowledge into a greater whole. As Fandom staff, that gives us the privilege of empowering enthusiasts, experts, and die-hard fans. That's why no set of Fandom values would be complete without Community.
Community is at the center of our values and everything we do. We constantly Balance the needs of the community with the needs of our business. We find new ways of Collaboration all the time, including expanding Community Connect so we can have even more interaction with community members. With these values at our core, our product becomes a tool rather than the thing that the site revolves around. We have editing and publishing tools that let people from around the world create content, and that content becomes part of a larger community. It's tools like these that bring contributors and readers together, but it's their passion for being part of a community that keeps them coming back.
Ann Watson and Ted Gill both talked to you about how our company also acts as a community. Everyone works together in pursuit of shared goals, just as you do on your wikis. No one exists in a silo; it's impossible to work here without working with other teams. Our Community Team works directly with Product, Sales, and Marketing in order to put the community at the center of our product and business decisions. Likewise, if you were to join our Sales Team, you might work closely with Product, Editorial (Fandom news and stories), Marketing, and the Community Team in order to make sure decisions being made are generating the most value for the business. This level of collaboration fosters community among our peers here at work.
In May 2014, we made a big step in the type of Community that can exist on our platform when we acquired Huddler, a forum-based platform where fans engage around subjects not normally seen on Fandom. For example, one of the seven hosted forum communities, NikeTalk, started out as a place for people to share their love of Nike products and has since expanded into a community of the world's most dedicated and knowledgeable sneaker fans. Another community, Head-Fi, is home to high-end headphone and audio equipment enthusiasts. The experts on these forums all join together to share what they love about these products, while also sharing their expertise about them.
For many of you, this post may be your very first introduction to Huddler, but you've already seen the influence of Huddler technology on our platform through our new Discussions feature. The user-facing look of Discussions is quite a bit different from Huddler, but the product underpinning it is very much influenced by the software that powers Huddler. Many of our team members who work on Discussions also previously worked for Huddler to manage the platform. Without the success of Huddler communities, the continuing success of Discussions would not have been possible.
Whether it's on the core Fandom platform or on our Huddler communities, this way of doing business puts our communities first. We're able to bring the passion of our communities out to bigger audiences and more businesses who recognize the immense influence and expertise that fans have within their fandoms. That sort of passion, both from our fans and in the workplace, wouldn't be possible without Heart—and that's the value we'll be talking about next week when our values series continues with a post from Jon-Paul Ales-Barnicoat, Vice President of Global Talent, and Ann Watson, Vice President of Human Resources.
In the meantime, what do you value most about Community? We've told you our story, now tell us yours!
Want to receive updates on the latest Staff blog posts? Then click here to follow this blog.